Locations
Euro Café roasts and distributes high-quality coffee to Hudson Group, Euro Market, and other gourmet coffee houses and mini-markets around the country. Euro Café also sells freshly roasted coffee direct to the customer.
Euro Café's award-winning coffee is a special blend made of the best arabica coffee beans from three continents. Euro Café knows that roasting coffee is an art and a science, where mechanical and chemical processes release the complex flavors and aroma of the bean. A top-of-the-line hot air, smokeless roaster creates Euro Café's European dark roast.
Euro Café coffee can be found at locations in 8 US states and in Canada. Enjoy our café dining experience inside airport terminals, in high-traffic commercial locations near office buildings, and in grocery stores.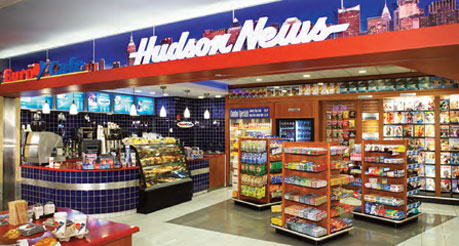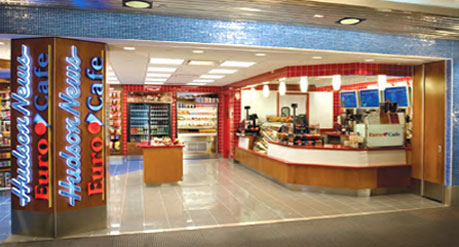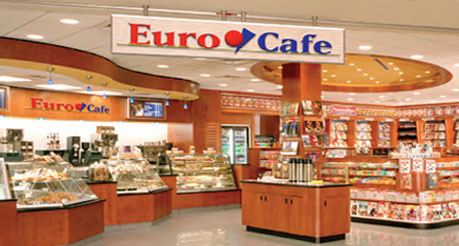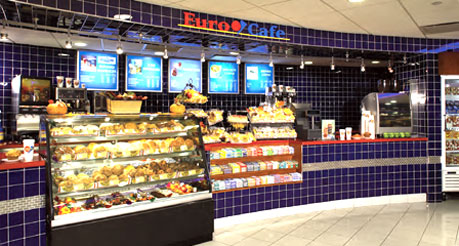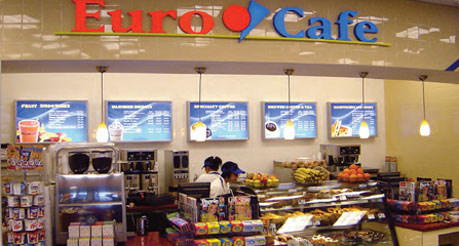 Hudson News & Hudson Bookseller
Located in airports around the US and Canada, Euro Café's Hudson News and Hudson Bookseller locations provide passengers and airport employees with a quick morning breakfast, a light mid-day meal, or a leisurely break.
Ted Stevens Anchorage International Airport
Anchorage, AK
San Jose International Airport
San Jose, CA
Northwest Florida Regional Airport
Eglin Air Force Base, FL
Baltimore Washington Int'l Airport
Baltimore, MD
JFK International Airport
New York, NY
Stewart International Airport
Newburgh, NY
http://www.panynj.gov/airports/swf-shops-restaurants-services.html
Cleveland Hopkins Airport
Cleveland, OH
Calgary International Airport
Calgary, Alberta
Canada
http://www.yyc.com/Default.aspx?cid=394
Edmonton International Airport
Edmonton, Alberta
Canada
Vancouver International Airport
Richmond, British Columbia
Canada
Euro Market
Euro Market is the perfect place to get your freshly roasted coffee and coffee drinks, cold blended, healthy fruit beverages, the best in locally baked pastries and light, healthy snacks, including hand-crafted sandwiches with Boar's Head ingredients, salads, and soups.
We also offer a fine selection of imported cheeses, pates, wines, and sparkling waters, while some locations also offer craft beers and assorted alcoholic drinks.
With fresh flowers, an ATM machine, and wireless Internet, our goal is to offer first-class customer service and make Euro Market a convenient one-stop shop for all of your daily necessities.
Euro Market
2201 Wilson Blvd
Arlington, VA 22201
tel: 703-351-7700
fax: 703-351-5145
http://eurocafemarket.com/

Euro Market/Mobil
6318 Leesburg Pike
Seven Corners
Falls Church, VA 22044
tel: 703-536-8141